Interaction of Color: New Complete Edition (Hardcover)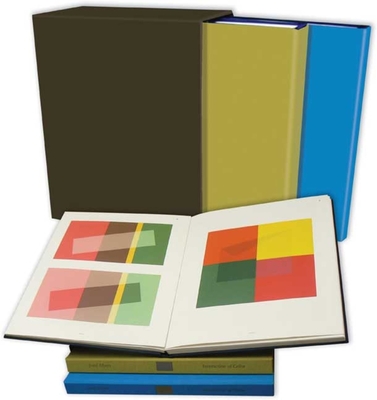 $300.00
Leave any questions here and allow 3-5 business days for a response.
Description
---
A luxurious new 2-volume edition of the full set of original plates, text,  and commentary

One of the most influential books on color ever published, Josef Albers's Interaction of Color is a masterwork. Originally issued in 1963 as a limited-edition set of commentary and 150 silkscreened color plates, the book introduced generations of students, artists, designers, and collectors to Albers's unique approach to complex principles. While the original publication has long been out of print, this beautiful new edition now brings Interaction back into classrooms, studios, and onto bookshelves, where it will find an eager new audience. Lavishly produced as a two volume slipcased set, this book replicates Albers's revolutionary exercises, explaining concepts such as color relativity and vibrating and vanishing boundaries through the use of color, shape, die-cut forms, and movable flaps that illustrate his astonishing demonstrations of the changing and relative nature of color. Also included for the first time are new studies from the Albers archive, produced by the artist's students in the early 1960s. A celebration of Albers's legendary achievements, this beautiful publication is an essential addition to any serious art library.
About the Author
---
Josef Albers, one of the most influential artist-educators of the 20th century, was a member of the Bauhaus group in Germany during the 1920s. In 1933 he came to the United States, where he taught at Black Mountain College for sixteen years. In 1950 he joined the faculty at Yale University as chairman of the Department of Design. The recipient of numerous awards and honorary degrees, Albers was elected to the National Institute of Arts and Letters in 1968 and was professor emeritus of art at Yale until his death in 1976. Nicholas Fox Weber is executive director of the Josef and Anni Albers Foundation.
Praise For…
---
"The magnificent presentation of this edition will continue to make this book indispensable to the next generation of art students and teachers alike."—Douglas F. Smith, Berkeley Public Library, Library Journal
"Josef Albers'
Interaction of Color
stands alone among color theory books: a classic that never fails to surprise with its continued relevance."—
Imprint