Adobe Acrobat 7 for Windows and Macintosh: Visual QuickStart Guide (Paperback)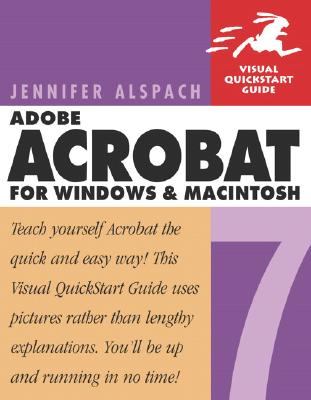 $19.99
Leave any questions here and allow 3-5 business days for a response.
Description
---
With improved security, tighter integration with Microsoft Office and Outlook, a tool for creating and embedding 3D data, and much more, Adobe Acrobat 7 is the productivity tool you've been dreaming of. This thoroughly updated, task-based guide ensures that you can turn your dream productivity tool into a reality with Acrobat 7. Veteran author Jennifer Alspach steps you through all the Acrobat 7 Professional essentials. From the basics of creating, organizing, and viewing electronic documents; streamlining document reviews; and using the program's editing and reviewing tools to more advanced functions like using digital signatures, creating interactive forms, using Acrobat's engineering and prepress tools, and protecting sensitive documents, this guide's got it covered! Both beginners and more advanced users who are looking for a convenient reference will find what they need here in straightforward language, clear steps, and practical tips peppered by loads of visual aids.