What Should I Do with My Life?: The True Story of People Who Answered the Ultimate Question (Mass Market)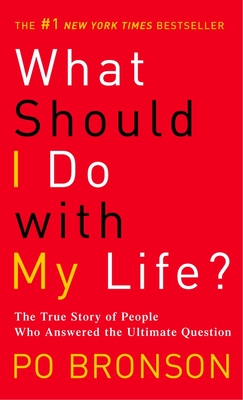 Description
---
"Brimming with stories of sacrifice, courage, commitment and, sometimes, failure, the book will support anyone pondering a major life choice or risk without force-feeding them pat solutions."—Publishers Weekly

In What Should I Do with My Life? Po Bronson tells the inspirational true stories of people who have found the most meaningful answers to that great question. With humor, empathy, and insight, Bronson writes of remarkable individuals—from young to old, from those just starting out to those in a second career—who have overcome fear and confusion to find a larger truth about their lives and, in doing so, have been transformed by the experience. 

What Should I Do with My Life? struck a powerful, resonant chord on publication, causing a multitude of people to rethink their vocations and priorities and start on the path to finding their true place in the world. For this edition, Bronson has added nine new profiles, to further reflect the range and diversity of those who broke away from the chorus to learn the sound of their own voice.
About the Author
---
Po Bronson is on the board of directors of Consortium Book Sales & Distribution and the editorial board of Zoetrope: All Story magazine. He has written for The New York Times Magazine, The Wall Street Journal, Fast Company, and Wired. He graduated from Stanford with a B.A. in economics and from San Francisco State with an M.F.A. in creative writing. He lives in San Francisco.
Praise For…
---
Although all three of his books have been critically acclaimed bestsellers, author Po Bronson began work on What Should I Do with My Life? because he was asking himself that very question. For answers, he crossed the landscape of America to find people who have struggled to unearth their true calling—people of all ages, classes, and professions who have found fulfillment: those who fought with the seduction of money, intensity, and novelty and overcame their allure; those who broke away from the chorus to learn the sound of their own voice.