Tiny Habits: The Small Changes That Change Everything (Hardcover)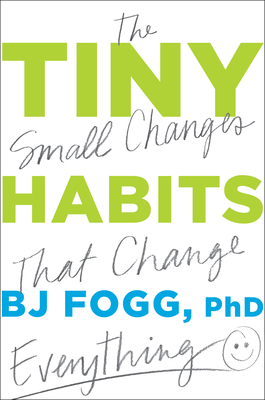 Description
---
New York Times Bestseller | A habit expert from Stanford University shares his breakthrough method for building habits quickly and easily. With Tiny Habits you'll increase productivity by tapping into positive emotions to create a happier and healthier life. Dr. Fogg's new and extremely practical method picks up where Atomic Habits left off. 

"There are many great books on the topic [of habits]: The Power of Habit, Atomic Habits, but this offers the most comprehensive, practical, simple, and compassionate method I've ever come across." —John Stepper, Goodreads user
 
BJ FOGG is here to change your life—and revolutionize how we think about human behavior. Based on twenty years of research and Fogg's experience coaching more than 40,000 people, Tiny Habits cracks the code of habit formation. With breakthrough discoveries in every chapter, you'll learn the simplest proven ways to transform your life. Fogg shows you how to feel good about your successes instead of bad about your failures. 
 
This proven, step-by-step guide will help you design habits and make them stick through positive emotion and celebrating small successes. Whether you want to lose weight, de-stress, sleep better, or be more productive each day, Tiny Habits makes it easy to achieve—by starting small.
About the Author
---
BJ FOGG, PhD, is the founder and director of the Behavior Design Lab at Stanford. In addition to his research, Fogg teaches Boot Camps in Behavior Design for industry innovators and also leads the Tiny Habits Academy helping people around the world.  One of Fortune's "10 New Gurus You Should Know," he lives in Northern California and Maui.
Praise For…
---
A New York Times Bestseller
A Wall Street Journal Bestseller
A USA Today Bestseller
A National Bestseller
A Publishers Weekly Bestseller
An Amazon Best Book of January 2020
As seen on the Today Show!
As seen on the Hallmark Channel's Home & Family
As seen in CNBC, Time, Forbes, the Wall Street Journal, Mashable, Refinery29, Shape, Fatherly, Wired, Woman's World, Popular Science, Success, Thrive Global, Huffington Post, TED Ideas, Lifehacker, Psychology Today, Fast Company, and much, much more!
A USA Today 2020 Pick
A Business Insider Top Book for January
A "Biggest Book of 2020" by Arianna Huffington
"Fogg's method has great potential to promote altered behavior in those who have sought help in other ventures with little success."—
Library Journal, STARRED
.
"Myth-breaking and persuasive research...balancing useful practices (including many charts, tables, and graphs) with his own story of personal transformation, Fogg's convincing method will help any reader reconfigure their habits."—
Publishers Weekly
"Deeply researched and highly practical, this book will be a valuable resource to anyone interested in changing their behavior (that is, all of us)."
–Gretchen Rubin
New York Times best selling author of The Happiness Project
"BJ Fogg's ideas on self-change are uniquely relevant, approachable, and powerful. I can't recommend this book highly enough."
–Ramit Sethi, New York Times best selling author of I Will Teach You To Be Rich
"BJ Fogg's work is transformative….We use Tiny Habits at Amen Clinics with our patients, online students, and readers. It is simple, easy-to-implement, and it works."
–Daniel G. Amen, MD, New York Times best selling author of Change Your Brain, Change Your Life
"[
Tiny Habits
] demystifies the little behaviors that add up to what is, in essence, our identity. Understanding these micro behaviors [is] critical if you want achieve big outcomes like losing weight or building a company."
–Tony Fadell, inventor of the iPod and Co-inventor of the iPhone