Will I Ever Pee Alone Again?: And other happy, heart-warming poems for mums (Hardcover)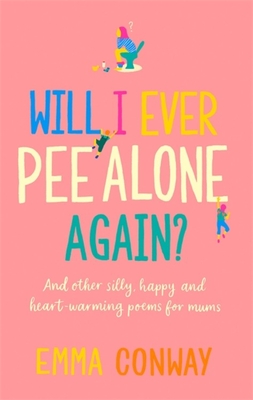 $16.99

Usually Ships in 1-5 Days
Description
---
There's a pyjama-clad woman from Brum,
She's a mostly-happy (sometimes-snappy) mum,
She's written some verse
- it's a little perverse -
and she hopes you find it side-splitting-ly fun!

In her first book, happy-go-lucky YouTuber and Instagrammer Emma Conway explores motherhood in all its glory through the medium of hilarious and uplifting poetry. A mum to two young humans aged 7 and 9, she revisits the days of no sleep, potty training and toddler tantrums; dives deep into first days of school, sibling bickering and watching your babies grow into little people; and writes frankly about life after having kids, embracing the mum bod and giving zero sods.

Written with huge amounts of warmth and love, and just the right amount of piss-takery, this is the reassuring hug-in-a-book you and all the mums in your life need.
About the Author
---
Emma Conway is a blogger from Birmingham, England. The winner of Blog of the Year at the Mum and Dad Blogger Awards in 2016, she has since ammassed over 90,000 Instagram followers and over 65,000 YouTube subscribers.