It's Different Every Day Page-A-Day Calendar 2018 (Calendar)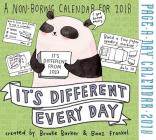 Description
---
Every day is different—so why not have a calendar that's different every day too? Make 2018 a year of adventure with this one-of-a-kind, delightfully weird calendar full of random oddments—animal facts, useless lists, amusing puzzles, doodle activities—to make you laugh, wonder, reflect, and engage the world around you, every day. 
About the Author
---
Boaz Frankel and Brooke Barker live in Portland, Oregon, where a background in filmmaking, illustration, museum curation, and advertising led them to the world of calendars. Together they co-create the It's Different Every Day Page-A-Day Calendar.

Boaz is also the host of The Pedal Powered Talk Show, (America's only talk show built into bicycle), now in its fifth season, and Brooke is the writer and illustrator of Sad Animal Facts.