The Ultimate Collection of Bible Trivia, Puzzles, and Facts (Paperback)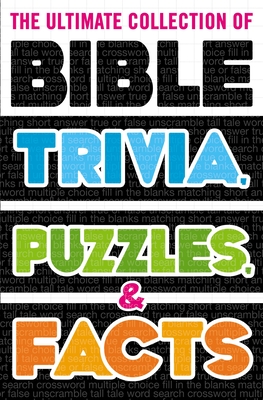 Description
---
Bible Learning Made Fun
Christians often struggle to feel familiar with their Bibles. But learning and understanding facts about Bible history, places, people, events, and even memory verses can be fun and engaging for the whole family.
This big collection of games, puzzles, quizzes, and trivia will help you feel comfortable with the whole Bible through fun activities for small groups or individuals.
The Ultimate Collection of Bible Trivia, Puzzles, and Facts uses many creative ways to make Bible study entertaining:
Hilarious questions
Different kinds of quizzes
Comical illustrations
Word searches and scrambles
Funny fill-in-the blank stories
Topics such as angels, famous people, and miracles
Crossword puzzles
and much more...
Gaining Bible knowledge is anything but trivial when it comes to following God. The activities in this book can be used as small group ice breakers, Bible study games, travel games, or fun individual study--always with the greater purpose of increasing Bible knowledge to know God better.