The Essential Scriptures: A Handbook of the Biblical Texts for Key Doctrines (Hardcover)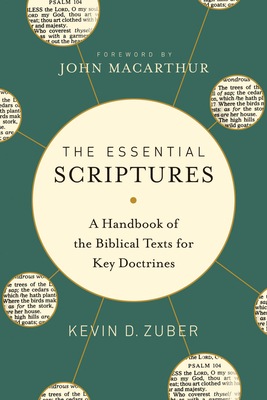 $24.99

Usually Ships in 1-5 Days
Description
---
Which Bible verses support that doctrine?
All good theology is grounded in the Word of God. Yet sometimes it's hard to keep track of which scriptures support certain doctrines. That's where The Essential Scriptures comes in. With an easy-to-use handbook format, this reference work moves through the main headings of systematic theology, offering full quotations of the biblical verses that undergird various doctrines. No more jumping back and forth between multiple sources. The Essential Scriptures puts it all in one place, providing not only the biblical support but also a learned exposition of how those passages serve as the basis for the doctrine under discussion.
Drawing from the literal and trustworthy New American Standard Bible, scholar and theologian Kevin Zuber gives you the biblical underpinnings for every doctrine, organized around the primary headings of systematic theology:
Prolegomena
Bibliology
Theology Proper
Christology
Pneumatology
Anthropology and Hamartiology
Soteriology
Angelology
Ecclesiology
Eschatology
Every pastor, scholar, student, and lover of theology needs this book in their library. The Essential Scriptures will be a classic that generations of theologians turn to again and again.
About the Author
---
KEVIN D. ZUBER is Chief Academic Officer and Professor of Theology at The Master's Seminary in Los Angeles, California. Before that he was a professor at Moody Bible Institute for seventeen years and he also served as a teaching pastor at Grace Bible Church Northwest in Schaumburg, IL. Over the years, Kevin has ministered around the world, teaching graduate and undergraduate classes in Asia, Africa, and Europe. He is a graduate of Grace College and Grace Theological Seminary, and he holds a Ph.D. from Trinity Evangelical Divinity school. Kevin is married to Diane, and they have two sons, David and Christopher.