Unbroken Thread: An Anthology of Plays by Asian American Women (Paperback)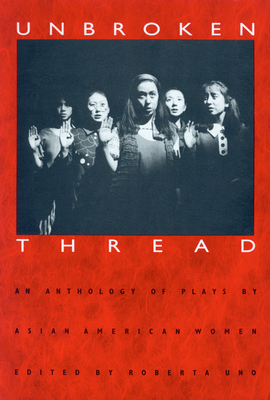 $32.14
Leave any questions here and allow 3-5 business days for a response.
Description
---
This book contains plays by Genny Lim (Paper Angels,) Wakako Yamauchi (The MusicLessons,) Momoko Iko (Gold Watch,) Velina Hasu Houston (Tea,) Jeannie Barroga (Walls,) and Elizabeth Wong (Letters to a Student Revolutionary.) The volume includes an extended introduction, a profile of each playwright, and an appendix. The six plays of this anthology represent some of the best dramatic literature written by Asian American women since the 1970s. Each is a groundbreaking work and addresses in its own way the experiences of Asians in America. All six playwrights are American-born daughters of Asian immigrants, and their voices span the genres of naturalism, impressionism, ritual drama, postmodern collage, and media-influenced episodic drama.
About the Author
---
Roberta Uno is founding artistic director of the New WORLD Theater at the University of Massachusetts, Amherst. As well as the Senior Program Officer at the Ford Foundation, where her focus is on arts and culture in the United States. She concentrates on developing and sustaining vibrant art spaces that can serve as artistic exemplars and promote cultural diversity and public participation.
Praise For…
---
"There is nothing frivolous in these tales of isolation and captivity, of stereotypes and generational clashes. These are potent and memorable dramas about individuals mired in societal conflict. The fine introduction and biographical profiles discuss the forces that both hindered and inspired the development of Asian American theatre."—Booklist

"Uno's introduction is well researched and provides an extensive overview of Asian American arts including acting as well as playwrighting. Uno has gone to great lengths to provide a comprehensive artistic context in which these plays were written as well as the historical period they cover. Unbroken Thread is a significant and welcome collection."—Asian American Arts Dialogue

"[Uno] provides a unique and valuable appendix, listing 69 Asian American women playwrights with 268 plays and all their production histories. Nowhere else have I seen this information gathered together."—Women's Review of Books

"Unites six authors who have searched for a voice and a means to outline the Asian-American sentiment from the viewpoint of the dejected Angel Island captive, the Japanese farmworker, those on the verge of internment in California, and the differences and infinite connections between an Asian woman and her Asian-American counterpart."—San Francisco Review of Books

"The plays in this volume span the range of Asian American women's experiences with passion, wit, anger, and blazing theatricality. Roberta Uno's volume redresses a long-neglected gap in theatrical literature by bringing together six outstanding dramatic pioneers, whose innovations in story and form unleash new fire onto the American stage."—David Henry Hwang