Wiley Cpaexcel Exam Review 2018 Focus Notes: Financial Accounting and Reporting (Spiral)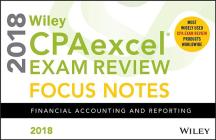 Leave any questions here and allow 3-5 business days for a response.
Hard to Find- Out of Stock Indefinitely
Description
---
Reinforce key concepts for the Financial Accounting and Reporting section of the CPA Exam with these easy-to-read and carry spiral-bound focus notes. Learn acronyms and mnemonic devices to help you remember accounting rules, checklists and more.
Let Wiley CPAexcel Focus Notes help you memorize formulas, concepts, acronyms and more.
Drill yourself on key steps in performing needed financial calculations or tasks.
Learn important strategies for taking the exam more quickly and accurately.
Solve exam questions and reinforce material being studied with a simplified, focused approach.
Memorize a variety of rules and checklists with our acronyms and mnemonics.
Covering the entire gamut of required subjects and skills, these handy supplements provide critical knowledge in an easy-to-understand and easy-to-remember format.