Harry Potter: The Illustrated Collection (Books 1-3 Boxed Set) (Multiple copy pack)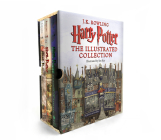 $120.00
Email or call for price.
Description
---
The first three books in the Harry Potter series, gorgeously illustrated in full color by Jim Kay, now available in a collectible boxed set!This beautifully produced boxed set is the perfect introduction to the Harry Potter series, and an impressive gift for new readers and lifelong fans alike. It contains the first three books in the series (Harry Potter and the Sorcerer's Stone, Harry Potter and the Chamber of Secrets, and Harry Potter and the Prisoner of Azkaban) in large-scale editions, gorgeously illustrated in full color by award-winning artist Jim Kay. These editions are a pleasure to read, with generously sized pages, color on every page, and a ribbon bookmark in each volume. A full-color slipcase featuring red foiled lettering and Kay's brilliant depiction of Diagon Alley completes the package, making this collection a luxurious gift for readers and Harry Potter fans of all ages.
About the Author
---
Jim Kay won the Kate Greenaway Medal in 2012 for his illustrations in A Monster Calls by Patrick Ness. Jim studied illustration at the University of Westminster and since graduating has worked in the archives of Tate Britain and the Royal Botanic Gardens at Kew. Jim has produced concept work for television and contributed to a group exhibition at the Victoria and Albert Museum in London. He now lives and works in Northamptonshire, England, with his wife.
Praise For…
---
Praise for Jim Kay's illustrations:"I love seeing Jim Kay's interpretation of Harry Potter's world, and I feel honored and grateful that he continues to lend his talent to it." -- J.K. Rowling"It's all that an old-fashioned book aficionado could wish for . . . Is this, one wonders, the sort of book found at Diagon Alley's Flourish and Blotts or in the Hogwarts library? Kay's illustrations, freshly re-envisioning the story, range from spot images to dramatic double page spreads, all pulsating with color and vitality. This gorgeous volume is sure to please all, from Harry Potter neophytes to longtime fans." -- New York Times Book Review

Praise for Jim Kay's illustrations:"I love seeing Jim Kay's interpretation of Harry Potter's world, and I feel honored and grateful that he continues to lend his talent to it." -- J.K. Rowling"It's all that an old-fashioned book aficionado could wish for . . . Is this, one wonders, the sort of book found at Diagon Alley's Flourish and Blotts or in the Hogwarts library? Kay's illustrations, freshly re-envisioning the story, range from spot images to dramatic double page spreads, all pulsating with color and vitality. This gorgeous volume is sure to please all, from Harry Potter neophytes to longtime fans." -- New York Times Book Review