Seeking Common Ground: Latinx and Latin American Theatre and Performance (Hardcover)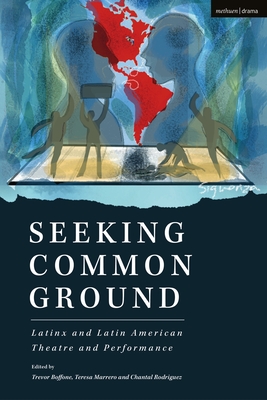 $100.00

Usually Ships in 1-5 Days
Description
---
A curated collection of new Latinx and Latin American plays, monologues, interviews, and critical essays that asks the question: what is the common ground between Latinx and Latin American artists?

Featuring a mix of plays and scholarly essays, this work originally emerged from the Latino Theater Company's Encuentro de las Am ricas festival, produced in partnership with the Latinx Theatre Commons (LTC) at the Los Angeles Theatre Center in 2017. The collection chronicles not only the theatrical productions of the festival, but also features a transnational exploration of U.S. Latinx and Latin American theatre-making.

Alongside plays by Evelina Fern ndez, Alex Alpharaoh, J.Ed Araiza and Carlos Celdr n this anthology also includes a mix of monologues, snapshots, profiles and interviews that together provide a dynamic account of these intersections within U.S. Latinx and Latin American Theater. A unique collection it serves not only as a testament to the diversity of Latinx artists, but also to the strength of the Latinx Theater movement and its ever-growing networks across the Hemispheric Americas.

Full playtexts include:

Dementia by Evelina Fern ndez
WET: A DACAmented Journey by Alex Alpharoah
Miss Julia adapted by J.Ed Araiza
10 Million by Carlos Celdr n.
About the Author
---
Trevor Boffone is a Lecturer in the Women's, Gender & Sexuality Studies Program at the University of Houston. His work using Dubsmash and TikTok with his students has been featured on Good Morning America, ABC News, Inside Edition, and Access Hollywood, among numerous national and local media platforms. He is the author of Renegades: Digital Dance Cultures from Dubsmash to TikTok. He is the co-editor of Encuentro: Latinx Performance for the New American Theater; Nerds, Goths, Geeks, and Freaks: Outsiders in Chicanx and Latinx Young Adult Literature; and Shakespeare and Latinidad. Teresa Marrero is Professor of Latinx and Latin American Theater in the Department of Spanish at the University of North Texas. She is a theatre critic for the North Texas online arts journal, www.theaterjones.com, and a member of the American Theatre Critics Association. Her scholarly publications include: Encuentro: Latinx Performance for the New American Theater (Northwestern University Press, 2019), "Latinx Sci-Fi Theater: Speculating Possible Futures." Theater (Yale School of Drama 2019), "Where Earth Meets the Sky: Decolonizing Latinxfuturistic Theater." TheatreForum (San Diego, University of California, 2019). Her creative works include the publication of her Spanish-language play La Familia in Teatro Latino: Nuevas Obras de los Estados Unidos, (Colorado Springs, La Casita Grande (2019). Her English-language play Second-Conversations with Irene, Remembering Long Enough was selected as part of The Undermain Theatre's 2020 (now postponed to 2021) Whither Goest Thou America? A Festival of New American Play Readings. Chantal Rodriguez is Associate Dean of Yale School of Drama and an Assistant Professor Adjunct in Dramaturgy and Dramatic Criticism. She is co-editor of What's Next for Latinx? Theater Magazine, Volume 49.1 (Duke University Press, 2019) and Encuentro: Latinx Performance for the New American Theater (Northwestern University Press, 2019). She is the author of The Latino Theatre Initiative/Center Theatre Group Papers (UCLA Chicano Studies Research Center Press, 2011) and a member of the Latinx Theatre Commons Advisory Committee, and the National Advisory Board for the 50 Playwrights Project.