It's Different Every Day Page-A-Day Calendar 2020 (Calendar)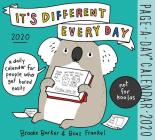 Description
---
A calendar that's completely different every day—and contagiously fun!

In life, no two days are precisely the same—precisely the joy of this sweetly irreverent calendar from Brooke Barker and Boaz Frankel. Page after page, it keeps you coming back for more surprises: a charming comic, a quirky joke, a fantastically terrible pun, a silly game for sharing with friends. On one day, dress a naked mole rat paper doll in cutout outfits (including a mini motorcycle jacket). On another, guess which fun fact about arctic foxes is true: My burrow can have 100 entrances or I collect gel pens (psst … it's the former). And celebrate National Sandwich Month with sandwich-related tongue twisters. Every day will make you smile in its own completely original, entertaining way—perhaps with a quiz, game, soothing activity, festive comic, or more, plus hundreds of hand-drawn illustrations.
About the Author
---
Brooke Barker is the creator of the Sad Animal Facts Instagram account and author of the New York Times–bestselling book of the same name and its sequel, Sad Animal Babies. Brooke has contributed to the New York Times, Lenny Letter, The Guardian, Cup of Jo, The Stranger, and more. Her books have been translated into nine languages and her comics have been featured in New York Magazine, Forbes, Bustle, Entertainment Weekly, Fast Company, Mashable, POPSUGAR, Parade, and The Guardian, among others. Brooke currently works as a freelance writer and illustrator.
Boaz Frankel is a filmmaker, writer, and talk show host. For six years Boaz hosted the Pedal Powered Talk Show, a talk show built into a bicycle that travelled all over the United States. When Boaz isn't breaking Guinness World Records for the most high fives in an hour, appearing on NBC's TODAY Show, or starring in a Dutch television segment called Boaz Goes Dutch, he creates quirky documentaries, curates a kazoo museum, and takes Kip (Boaz and Brooke's dog) on long walks.