Names of God and Other Bible Studies (Rose Bible Basics) (Paperback)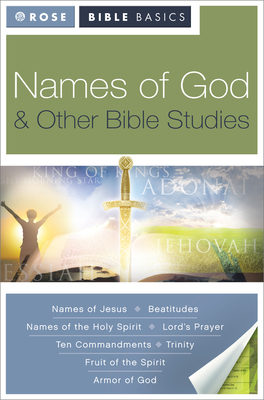 Description
---
Names of God and Other Bible Studies
is one of the best-selling Bible studies on the Names of God available today. Includes optional fill-in-the-blank Bible study guide. Perfect for small groups, Sunday school classes, church groups, and for personal study. This full-color book contains studies on the Names of God, Names of Jesus, Names of the Holy Spirit, Trinity, Ten Commandments, Lord's Prayer, Beatitudes, Fruit of the Spirit, and Armor of God. 112 pages. Includes color charts, illustrations, and photos throughout.
Names of God and Other Bible Studies
gives you enough basic Bible teaching to use in a six-week Bible study or small group or class. The optional worksheets and handouts can be downloaded by clicking the link above. Why buy an Rose Bible Basic Book?
Full color: Attractive layout holds people's attention
Easy to understand: Good for readers of all levels
Save money. It is made up of 9 full-color Rose Publishing pamphlets and costs less than 4 pamphlets
Study guide: An optional study guide is either printed in the back of the book or as a free download at www.rose-publishing.com > News & Info > Downloads > Rose Bible Basics Study Guides
Six weeks of material: Use personally or for a Bible study or small group. You can study at any pace, 6 weeks, 8 weeks, 12 weeks.