Feasts of the Bible (Paperback)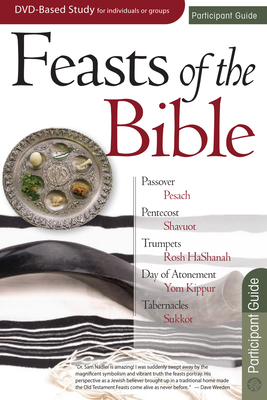 Description
---
Click here for a free preview. This is the companion participant guide to the
Feasts of the Bible 6-Session DVD-based Study
.
It gives the participant discussion questions, quizzes, a place for taking notes and listing prayer requests, additional Old Testament information about types of offerings, the role of the priests, the meaning of Jesus' teaching that he was Lord of the Sabbath, and more. Includes a calendar of the feasts (they change dates each year) and diagrams and charts for the tabernacle and the feasts of the Lord. Some Christians miss the importance of the biblical feasts, seeing them as merely Jewish holidays, but Scripture says these are the Feasts of the Lord God established for all people for all time.
Now you can connect the Hebrew roots of Christianity and the symbolism that points to Jesus Christ using this 6-session DVD-based study and Participation Guide,
The Feasts of the Bible.
This is the ultimate 6-session DVD-based study on the feasts and holidays of the Bible. Dr. Sam Nadler is your guide through the feasts. Brought up in a traditional Jewish home, Sam came to believe in Jesus as Messiah. He served with Jews for Jesus, Chosen People Ministries, and is now president of Word of Messiah Ministries. There's a small group DVD-based curriculum to go with this book. Click here (or go to go to FeastsOfTheBible.com) to see sample videos, sample sessions from the leader and participant guides, and to find out more about the
Feasts of the Bible
DVD Study
ENDORSEMENT for Feasts of the Bible DVD-Based Study

Sam Nadler is one of today's most solid Messianic Jewish teachers. He brings fascinating insights without losing sight of major scriptural truths. He is doctrinally sound and yet calls for Christians to look afresh for new discoveries the Word. And he demonstrates with undeniable clarity how the Feasts and Holy Days of Israel are of importance to the Church today, indeed, how they are ultimately witnesses to Yeshua the Messiah. If you're looking for practical, edifying, and enlightened teaching on this important topic, look no further.
Dr. Michael L. Brown, author, Answering Jewish Objections to Jesus
I am greatly impressed with how well written, visually appealing and coordinated the DVD, PowerPoint, Book, Leaders and Participants guide along with the Pamphlet are. Each one is of the highest quality and easy to use. It has been a delight to review and complete this study. I highly recommend it...Your church, Bible study, home group, Sunday School class or personal study will be greatly enhanced through this masterfully done study.--Wayne Newcombe, Team Rose Representative, and Christian blogger (provided a review copy). Click here to read his full review.
96 pgs, paperback.
Feasts of the Bible: Promo Video
Click here to view the video on Vimeo.
Watch Session Six: Feast of Tabernacle
Click here to view the video on Vimeo.
About the Author
Sam is a Jewish believer in Jesus who was brought up in an Orthodox Jewish home in Queens, New York. As he began looking at the Old Testament prophecies, they seemed to point to Jesus as the Messiah. He soon came to faith in Jesus and realized his Jewishness wasn't just some accident of nature, but that God had a plan and purpose, not only for the Jewish people as a whole, but for Sam personally.
Ministry
Sam Nadler is president of Word of Messiah Ministries, an outreach which develops leaders for world-wide impact for the gospel among the Jewish People. He served as president of Chosen People Ministries and started the Jews for Jesus outreach in New York City. He received a doctoral degree from Southern Evangelical Seminary and has authored several books including Messiah in the Feasts of Israel, The Messianic Answer Book, Feasts of the Bible and devotional commentaries on Jonah and Ruth.
Top of page. Look Inside: Sample Pages of
Feasts of the Bible
Participant Guide.