Hot Color, Dry Garden: Inspiring Designs and Vibrant Plants for the Waterwise Gardener (Paperback)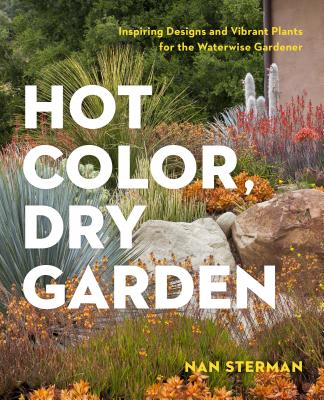 $27.99

Usually Ships in 1-5 Days
Description
---
"Eye-popping proof that water-wise gardens are bold, beautiful and brilliantly hued." —San Diego Home and Garden

Dry weather defines the Southwest, and it's getting dryer. As water becomes more precious, our gardens suffer. If we want to keep gardening, we must revolutionize our plant choices and garden practices. Hot Color, Dry Garden provides a joyful, color-filled way to exuberantly garden in low-water conditions. Garden expert Nan Sterman highlights inspiring examples of brilliant gardens filled with water-smart plants. You'll find information about designing for color using plants, architecture, and accessories, along with a plant directory that features drought-tolerant plants that dazzle.
About the Author
---
California native Nan Sterman is an author, botanist, garden designer, consultant, and award-winning garden communicator who lives in Encinitas, California. She designs low-water, sustainable, and edible gardens for residential and public spaces. Her articles have appeared in the Los Angeles Times, Sunset, Organic Gardening, and she pens a monthly garden column in the San Diego Union Tribune. She is the host of A Growing Passion.
Praise For…
---
"Gardeners in water-challenged areas will find here expert guidance in plant selection for optimum color impact." —Library Journal starred review​

"Profusion of design ideas. . . . Strongly recommended for the southwestern, dry-zone gardener." —Booklist

"This book is full of plant ideas for the Southwest—and designs that gardeners everywhere will appreciate." —Better Homes and Gardens 

"The book is strong on design—what about plant IQ? This is that rare book that is comfortably fluent in both areas." —A Growing Obsession

"A visually-appealing compendium of resources meant to inspire gardeners to think differently about color, contrast, and texture in water-wise gardens. . . . Hot Color, Dry Garden is a fun and vibrant book." —NYBG's Plant Talk

"The book shows that you need not sacrifice color, excitement, and beauty as you create a garden that's a responsible drinker." —Digging

"I've been wishing for this kind of book for a long time. . . a smart combination of inspiring photos and nuts-and-bolts details—and here it finally is." —Succulents and More

"Eye-popping proof that water-wise gardens are bold, beautiful and brilliantly hued." —San Diego Home and Garden

"If you want to have the colorful, vibrant, low-water gardens that are teaming with birds, butterflies and wildlife. . . . This book provides good info and photos to get you going." —Mercury News​

"An excellent resource for both novice and experienced gardeners who live in southwestern desert climates." —The American Gardener

"Provides home gardeners with a color-filled way to garden in areas affected with drought and low-water conditions. Garden expert Nan Sterman highlights inspiring examples of brilliant gardens filled with water-smart plants." —Waco Today

"A go-to guide for gardeners in the Southwest." —La Jolla Light

"Waterwise gardens definitely don't have to be dull or boring. Garden expert Nan Sterman introduces us to 150 bold and bright drought-tolerant plants, along with dozens of design ideas and dry gardening how-to's." —Garden Design Magazine

"Includes tips for how to pick the best plants for dry conditions and design a garden that's better for the environment." —Insider