American Urbanist: How William H. Whyte's Unconventional Wisdom Reshaped Public Life (Paperback)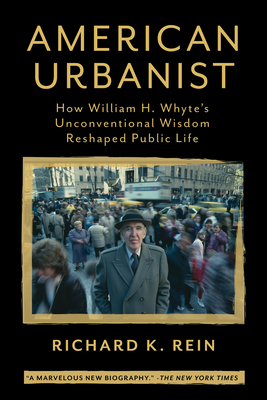 $27.00
Unavailable
Not Yet Published - Check Back Later
Description
---
"A marvelous new biography." -The New York Times

On an otherwise normal weekday in the 1980s, commuters on busy Route 1 in central New Jersey noticed an alarming sight: a man in a suit and tie dashing across four lanes of traffic, then scurrying through a narrow underpass as cars whizzed by within inches. The man was William "Holly" Whyte, a pioneer of people-centered urban design. Decades before this perilous trek to a meeting in the suburbs, he had urged planners to look beyond their desks and drawings: "You have to get out and walk."
 
American Urbanist shares the life and wisdom of a man whose advocacy reshaped many of the places we know and love today—from New York's bustling Bryant Park to preserved forests and farmlands around the country. Holly's experiences as a WWII intelligence officer and leader of the genre-defining reporters at Fortune Magazine in the 1950s shaped his razor-sharp assessments of how the world actually worked—not how it was assumed to work. His 1956 bestseller, The Organization Man, catapulted the dangers of "groupthink" and conformity into the national consciousness.
 
Over his five decades of research and writing, Holly's wide-ranging work changed how people thought about careers and companies, cities and suburbs, urban planning, open space preservation, and more. He was part of the rising environmental movement, helped spur change at the planning office of New York City, and narrated two films about urban life, in addition to writing six books. No matter the topic, Holly advocated for the decisionmakers to be people, not just experts.
 
"We need the kind of curiosity that blows the lid off everything," Holly once said. His life offers encouragement to be thoughtful and bold in asking questions and making space for differing viewpoints. This revealing biography offers a rare glimpse into the mind of an iconoclast whose healthy skepticism of the status quo can help guide our efforts to create the kinds of places we want to live in today.
About the Author
---
After a reporting career that included stops at Time Magazine and People, Richard K. Rein launched a nationally acclaimed weekly newspaper, U.S. 1, that helped the Princeton-Route 1 corridor become more than an "edge city." Rein now serves on Princeton Future, a nonprofit that promotes sustainable urbanism in his hometown.
Praise For…
---
"A marvelous new biography."
— The New York Times

"Journalist Rein debuts with an intriguing intellectual biography of journalist and urbanist William "Holly" Whyte (1917–1999)…  [He] foregrounds Whyte's own writing and analyses, which were remarkably prescient. The result is a welcome tribute to a visionary thinker."
— Publishers Weekly

"Rein's comprehensive biography of this icon of the planning and preservation movement focuses on Whyte's vision and legacy, offering an accessible and worthy source of inspiration for contemporary and future land-use challenges."
— Booklist

"In American Urbanist, journalist Richard Rein tells the story of William H. Whyte's particular genius and why it exercises an enduring influence on American life"
— Wall Street Journal

"Rein's book is truly impressive...[He] rescues Whyte's legacy by chronicling his visionary critiques of urban and suburban America. He was the Paul Revere of critics of American urbanism and suburbanism, yet his warnings were not heeded...Thanks to Richard Rein for bringing the forgotten legacy of William H. Whyte back to life."
— Beyond Chron

"This biography will hopefully expand Whyte's influence on cities, workplaces, and, most importantly, the people in both of them."
— A Daily Dose of Architecture Books

"Whyte's life, urban planning ideas, and significant impact on building and growing the preservation movement in America should be part of any library collection strong in not just urban development and planning, but social change and community issues. The blend of biography and insights on urban development choices and trends is outstanding."
 
— Donovan's Literary Services

"Richard K. Rein's American Urbanist is a must-read book—not just for those who care about building better cities but for anyone and everyone who cares about more-effective companies and creative organizations. Through Rein's detailed telling, 'Holly' Whyte emerges as among the most important urbanists—and even more so, as one of the most important public intellectuals of our time, shaping the discourse about economy and society, cities and management, innovation and creativity, over the course of the late twentieth and twenty-first centuries."
— Richard Florida, author of "Rise of the Creative Class"

"William H. Whyte had a profound influence on how we think about cities, but his contribution was so wide-ranging that it can be hard to pin down. In his engaging new biography, Rein presents Whyte as an original thinker who was always restless to 'blow the lid off' accepted wisdom, trusting his eyes and his gut instead."
— Amanda Kolson Hurley, "Bloomberg Businessweek" Journalist and author of "Radical Subrubs"