The Ultimate Flower Gardener's Guide: How to Combine Shape, Color, and Texture to Create the Garden of Your Dreams (Paperback)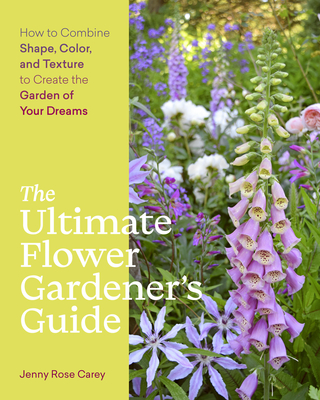 $29.95

Usually Ships in 1-5 Days
Description
---
"Full of practical insights, ideas, and inspiration to help you grow the flower-packed garden of your dreams."—Greg Loades, author of The Modern Cottage Garden
 
The colors, shapes, and scents of flowers are as ravishing to the senses as to the soul. But it's all too easy get things wrong: colors that clash, flowers that bloom at the wrong time, plants that fail to thrive. Enter The Ultimate Flower Gardener's Guide by expert gardener Jenny Rose Carey. She tells you exactly how to get started, how to combine plants for the most spectacular effects, and how to keep your garden going from year to year. Whether you're interested in dramatic color combinations, how best to use a favorite flower, or how to create a garden for a specific purpose, such as nourishing pollinators, you'll find the answers in this friendly, information-packed book. As Jenny herself says, "Don't be afraid—just have a go!"
About the Author
---
Jenny Rose Carey is a renowned gardener, educator, historian, and author, and the former senior director at the Pennsylvania Horticultural Society's Meadowbrook Farm in Jenkintown. She previously worked at Temple University for over a decade, first as an adjunct professor in the Department of Landscape Architecture and Horticulture and then as director of the Ambler Arboretum. Jenny Rose has been lecturing nationally and internationally for many years. She is an avid hands-on gardener who has gardened in both England and the United States. Her Victorian property, Northview, contains diverse garden spaces, including a cutting garden, an herb garden, a dry garden, and various mixed flower beds. Jenny Rose and her gardens have been featured on the PBS series The Victory Garden, in the Wall Street Journal, the Washington Post, the Philadelphia Inquirer, Grow magazine, and The Pennsylvania Gardener.
 
Praise For…
---
"A thorough approach to landscaping. A wrap-up section showcases inspirational layouts and provides practical suggestions for starting…A detailed and handy reference." —Booklist
 
"Expertise and artistry are in full bloom in this outstanding floral masterclass from historian Carey…Encyclopedic knowledge and a fantastic eye for detail make this a must-read for gardeners of all levels." —Publishers Weekly

"Full of practical insights, ideas, and inspiration to help you grow the flower-packed garden of your dreams." —Greg Loades, author of The Modern Cottage Garden
 
"The Ultimate Flower Gardener's Guide is a master class on flower gardening. It is like my favorite cookbooks: chatty, inspiring, informative, and packed with luscious, mouth-watering photographs. A must for every flower gardener."—Marta McDowell, author of Unearthing the Secret Garden
 
"Jenny's infectious love of flowers radiates out from this beautiful how-to guide to turning your flower garden dream into reality. Whatever your skill level, this book offers new learning and delight." —Matt Rader, President of the Pennsylvania Horticultural Society
 
"Whether your garden is sunny or shady, wet or dry, The Ultimate Flower Gardener's Guide will inspire you to get planting." —R William Thomas, Executive Director of Chanticleer Garden

"All the information you will need to prepare, plan, finally plant, and maintain the plants in your garden."—Commonweeder

"From bloom shape to colour and more, this book gives you the knowledge to design your flower borders for maximum effect." —The Garden, RHS

"Amazingly helpful for every gardener…[it] gives you all the information you will need to prepare, plan, finally plant, and maintain the plants in your garden."—Commonweeder ?