Rock Bottom is Where Bad Bitches Are Built: Find Your Footing; Conquer the Climb (Paperback)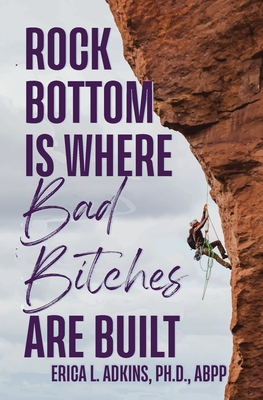 $14.99

Usually Ships in 1-5 Days
Description
---
Healing from trauma, or rock bottom, is much like climbing a mountain. It's intimidating, it's hard, it hurts, but the satisfaction of reaching the summit is worth every second.
As a licensed psychologist, it is Dr. Adkins' job to sit with people during their darkest moments, help them heal the broken parts of themselves, and help them find the courage to keep going. After years spent studying how to help people heal from trauma, depression, anxiety, and grief, her most poignant education came from surviving a string of traumatic events including working in a prison, infidelity, domestic violence, sexual assault, divorce, and military deployment.
Rock Bottom is Where Bad Bitches Are Built is a unique memoir, chronicling the author's journey from rock bottom to resilience that will inspire readers to find their own path to healing. Dr. Adkins takes you on the journey of her life. Of her pain. She shows you that pain and trauma can happen to anyone and that you can not only HEAL but you can GROW and THRIVE following horrific incidents.
In this gripping and heart-wrenching account of the most traumatic decade of the author's life, readers will be drawn into the power of her story, inspired by her resilience, and uplifted by the "footholds" she offers to guide you on your path to healing.
Is it easy? No. Will it hurt? Hell yes. Do you have to do it alone? Absolutely not. Dr. Adkins will show you that you have what it takes to rise above. That when you feel as if you have hit rock bottom and cannot possibly move forward, that is just the beginning, brave and courageous one. This book will be the metaphorical hand reaching down to rock bottom and pulling you back up again so you can continue your journey. You are NOT what has happened to you, and you are NOT alone on this journey. Put one foot in front of the other and take the first step toward healing. After all, rock bottom is where bad bitches are built, so let's get to work