Vincent Van Gogh & Frida Kahlo: Contrasting Art Styles. The Biography Collection (Paperback)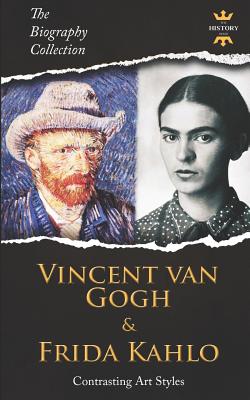 $12.99
Leave any questions here and allow 3-5 business days for a response.
Description
---
Unlike most artists, Van Gogh developed very slowly, beginning with work as an art dealer that exposed him to many great works. He undertook this work for several years, after which he spent time as a missionary for the Dutch Reformed Church. Thereafter, he drifted for several years before re-turning home to his parents' house, where he took up painting, largely self-taught with books on anatomy and painting. His great works all date from the later years of his life. Frida Kahlo was ahead of her time. She was bisexual and would have fit in perfectly in the time we live in now. Her disabilities would be acceptable in our society of today and her husband, Diego would probably be run out of town by the Real Housewives of "Cheaters." Frida came with a lot of baggage in her life starting when she was only six years old and even more baggage piled on when she was in high school. Her suffering was more than anyone can imagine but she kept her head held high and forged her way forward.
Inside you'll read about
Vincent van Gogh. Early Life
Vincent van Gogh. Stylistic Developments and Influences
Van Gogh's Death
Frida's Birth and Family
Frida's Lovers
A Lifetime of Frida's Creations
A Medical Doctor's Perspective on Frida
And much more
Totally neglected in his life, Van Gogh suffered from psychosis for much of his life, and was treated for depression, unsuccessfully. He died from a self-inflicted gunshot wound on July 29th, 1890. Only after his death, thanks to the efforts of his brother, Theo, he achieved recognition as a great artist. If Frida had not had a unibrow, waxed her upper lip, and shaved under her arms, she may have appeared more feminine than she did, and it may have given her more self-confidence. She never gave herself a chance because she felt it was her job to be the boy in the family.