Are You Stoned Or Stupid? True Caribbean Adventures (Paperback)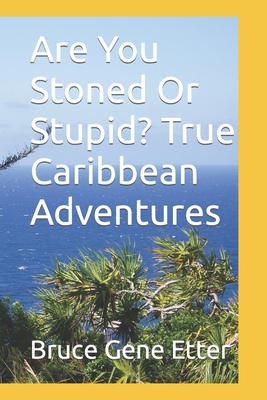 $9.98

Usually Ships in 1-5 Days
(This book cannot be returned.)
Description
---
People who read this book say "WOW ". Read this book and learn of the eighties adventure and party cult. All true, there are wild adventures, celebrations of life, drug smugglers, life and death adventures at sea, and a hurricane. We were truly alive and truly free. We were invincible.. Jobs fill your pocket but adventure fills your soul. When you have lost your fear you really live.
From chapter 17" Let the party begin" We watch the sun set as the band plays on. We finish the meal listening to a very sexy, romantic, calypso band. "like the dolphin who guides you you bring us besides you. To light up the darkness and show us the way." She sings with such a beautiful romantic voice. It's times like these that you never forget. The feeling of complete tranquility, and added joy, that makes life here wonderful. Tina and I dance to the music. We dance to celebrate life. We dance to a calypso band in Tortola, while on an adventure on a Chinese junk, with a motley crew. We lose ourselves with the Water Island disturbance team, under the stars, as the moon light shines down. You have to lose yourself to find yourself. We dance the night away in a sea of elation and happiness. Throw caution to the wind, and lose yourself in the moment. Nothing else matters. We are truly living.
From Chapter 12 "Fifth Annual Schooner Race" Watching all these magnificent schooners, being part of the 5th annual schooner race, at the British Virgin Island of Tortola, is an experience of a lifetime. Live life to the fullest. You only get to live it once. Around the first corner of Jost Van Dike we sail as the wind changes. We work fast, and people are cranking feverusly. Bob is letting the sail out while two people are cranking it in. "Slower Slower Don, t, let that sail out so fast Captain Noel barks. It's too late Boom Tear , Crash, Rip , Woosh The sail rips right down the middle, as the boom crashes back and forth with the wind. It is over before it started. The new sail is history. The boat begins to slow sown and Elsi is gaining ground on us. As Elsi gets closer Our captain turns Dolphin for a tack. We cross the path of Elsi. This forces Elsi to tack also. This is a No No in the sailing world. Elsi's forward speed is faster than ours. We are on a broadside collision course with Elsi. Wow Sixty tons crashing into forty tons. At this point any normal human being world turn Dophin to avoid the crash. Instead captain Noel is busy getting a cooler with about thirty water balloons in it. Elsi charges closer and closer. Time is running out At the last moment captain Noel turns the boat and yells fire They return fire with their own balloons. This is too surreal. It's as if were engaged in an open sea battle and going to board Elsi for hand to hand water balloon combat. I am panicking It's times like this that you ask yourself just how did you get into this situation. I just wanted a leisurely sail around a beautiful tropical island. Sixty tons are about to crash into forty tons. I think all is lost, captain Noel steers dolphin away. We miss Elsi by about two feet. "Good job with the balloons. We showed them " Captain Noel sounds off. I realize that captain Noes has few natural fears, if any. Elsi passes us and speeds around the corner.