Nat Tate 1928-1960: El enigma de un artista americano (Hardcover)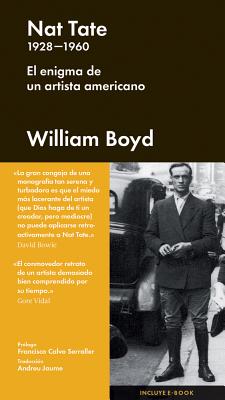 Email or call for price
Out of Print - No Longer Available
Description
---
When William Boyd published his biography of New York modern artist Nat Tate, a huge reception of critics and artists arrived for the launch party, hosted by David Bowie, to toast the late artist's life. Little did they know that the painter Nat Tate, a depressive genius who burned almost all his output before his suicide, never existed. The book was a hoax, and the art world had fallen for it. Nat Tate is a work of art unto itself-an investigation of the blurry line between the invented and the authentic, and a thoughtful tour through the spirited and occasionally ludicrous American art scene of the 1950s.

Nathwell Tate, gran pintor abstracto y desventurado, se arrojó a las aguas neoyorquinas en enero de 1960. Nunca se halló su cadáver y a duras penas se hallarían dieciocho briznas de su trabajo, pues él mismo se había encargado de destruirlo poco antes de morir. Muchos años después, David Bowie, Gore Vidal, William Boyd y John Richardson convocaron una fiesta de homenaje en el loft de Jeff Koons. Allí se leyeron fragmentos de este libro a la élite cultural de Manhattan, la cual, según las crónicas, recordaba vagamente al malogrado artista, apreció el formidable mérito de sus obras residuales y se sintió muy impresionada por su trágico destino.
About the Author
---
William Boyd is the author of ten novels, including A Good Man in Africa, winner of the Whitbread Award and the Somerset Maugham Award; An Ice-Cream War, winner of the John Llewellyn Rhys Prize and shortlisted for the Booker Prize; Brazzaville Beach, winner of the James Tait Black Memorial Prize; Any Human Heart, winner of the Prix Jean Monnet; and Restless, winner of the Costa Novel of the Year.
Praise For…
---
"William Boyd's description of Tate's working procedure is so vivid that it convinces me that the small oil I picked up on Prince Street, New York, in the late '60s must indeed be one of the lost Third Panel Triptychs. The great sadness of this quiet and moving monograph is that the artist's most profound dread-that God will make you an artist but only a mediocre artist-did not in retrospect apply to Nat Tate."-David Bowie, on the English-language edition