How to Budget & Manage Your Money: Financial Planning Book for Beginners. How to Save Money Faster, Pay Off Debt and Control Your Finances (Paperback)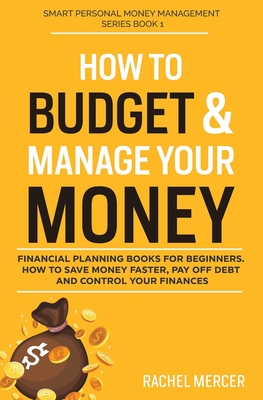 $12.97

Usually Ships in 1-5 Days
(This book cannot be returned.)
Description
---
Are you having a hard time paying your bills and saving your money?Do you want to get out of the Paycheck to Paycheck cycle
and have more money left in your account at the end of each month?Do you want to learn how to manage your money better?Ready to finally take control your finances but don't know where to begin?
Then this book is for you.

Many Americans today struggle with saving money and addressing increasing debt. Now more than ever, it is important for people of all ages to understand the importance of frugality and how their actions today will affect their futures. In this book, you will be introduced to a wealth of tips, tricks, and strategies for better financial management, no matter your current age, financial situations, past, or future goals.
In this simple personal budgeting book, you will learn how to make a realistic budget that actually works and you can stick to, to reach your financial goals faster and to take control of your finances.
This book is different in that, instead of just throwing you some tips, you will begin at a starting point that many people try to skip. And that is, to assess Where you are Right now.
The road to wealth is paved with goals, without financial goals, you have no direction, so it's easy to spend money on things you'll regret later. But if you're saving for a house, your son's college education, or a new car, your goal will keep you focused.
Financial success is more about mastering the mental game of money than about understanding numbers. The math is simple: it's controlling your habits and emotions that's hard.
In "How to Budget and Manage your Money", you'll discover:
What budgeting is and its benefits to your financial success

A step-by-step guide on how to make a realistic budget that actually works

How to have better spending habits & learn personal budget planning

How to budget for groceries and many ways to save money

How to pay off Debt fast and manage your money better

How to budget for retirement whether you've started saving in your 20s or have yet to start in middle age.

And much, much more
You will also get a Free bonus gift of special PDF report, "The Best Side Hustles You can Do Anywhere at Any Time" to make extra money to help you grow your wealth.
This is a financial planning book for beginners. You will learn how to make a budget that works for beginners. But it's for anyone who struggles with saving money and managing money. It is easy to understand and follow.
As the saying goes, you get what you put into it, and your new life of stability and overall peace and happiness is waiting for you to get started.
There is no magic wand to transport you to a land of milk and honey, but with a little effort, patience, and consistency, you can realize your goals on a timeline that works for you. Don't continue stressing over your finances as you work and work and feel like you're getting nowhere. That is a reality that too many people today are stuck in, but this doesn't have to be you.

So...

Scroll up
to the top and hit that
BUY BUTTON
to kick debt to the curb, save for the future, and pursue your financial.